Functions:
1.Special backlit LCD display
2.It can measure conductivity, TDS, salinity and temperature.
3.It functions as automatic temperature compensation and automatic calibration.
4.It provides power failure protection and automatic power-off functions.
5.It has calibration function. The user can calibratesensor coefficient and TDS conversion coefficient.
6.Measuring results can be stored, deleted and viewed. Up to 100 sets of test data can be stored.
7.It has RS-232 port and can be connected with TP-16 printer. If matched with data collecting software, it can be communicated with PC.
8.If matched with the titanium alloy sensor of 0.01cm-1 and sealed measuring reservoir, it can test high purity water.
9.It is equipped with DJS-1C conductancesensor(platinum black) and T-818-B-6 temperaturesensor.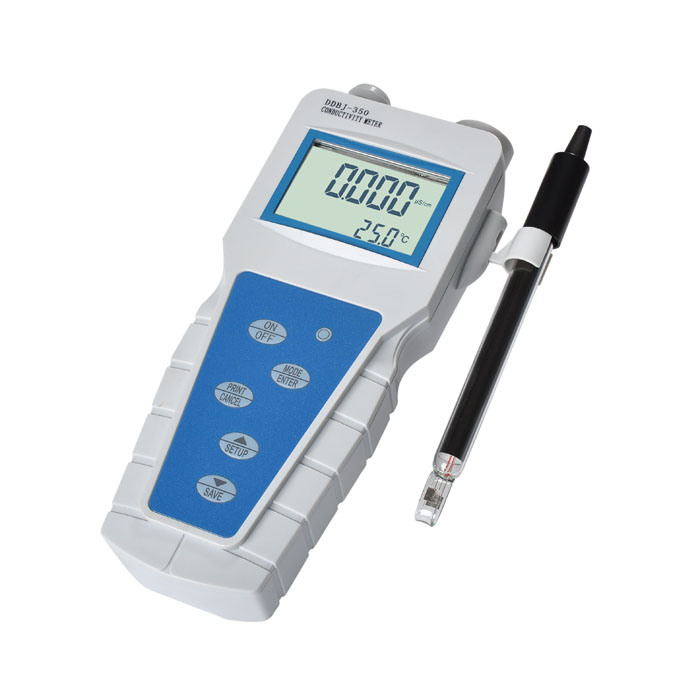 Specifications:
1.Measuring range:
Conductivity: 0.000μS/cm~199.99mS/cm,five measuring ranges and automatic switch
TDS:0.000mg/L~19.99g/L, five measuring ranges and automatic switch
Salinity: (0.00~8.00)%
Temperature: (0.0~40.0) ℃
2.Accuracy:
Conductivity: ±1.0%(FS)
T D S: ±1.0%(FS)
Salinity: ±0.20%
Temperature: ±0.3℃±1 bit
3.Stability: (±0.7%FS)/3h
4.Temperature compensation range: Manual/Automatic ( 0.00~40.0 ) ℃
5.Power supply: 4 alkaline batteries of model 5
6.Dimension(mm):210×86×50
7 .Net Weight: 0.5kg
8.Package Size: 500X380X220mm
Gross Weight: 3.5kg
Electrode Constant and corresponding Conductivity measuring range
| | | | | |
| --- | --- | --- | --- | --- |
| Electrodeconstant (K) (cm-1) | 0.01 | 0.1 | 1.0 | 10.0 |
| Measuring range | 0.000~19.99μS/cm | 2.00~199.9μS/cm | 20.0μS/cm~19.9ms/cm | 200μS/cm~199.9ms/cm |